On the afternoon of December 18, 2020, the 3rd Central South University Talent Training and Experience Exchange Conference for International Organizations sponsored by the Career Guidance Center of Central South University and organized by the Law School was held in Lecture Hall 123, Grammar Building. Chen Wanyun, Deputy Director of Career Guidance Center of Central South University, Huang Xi, Deputy Secretary of Party Committee of Law School of Central South University, Wang Li and Liu Dongmei, Associate Professor of Law School of Central South University, and student representatives from various schools all attended the exchange meeting. Tang Yao, a master's student of the grade of 2020, participated in the exchange as a representative of international NGO interns, and was named "Internship Peer Mentor of International Organizations" by the exchange meeting.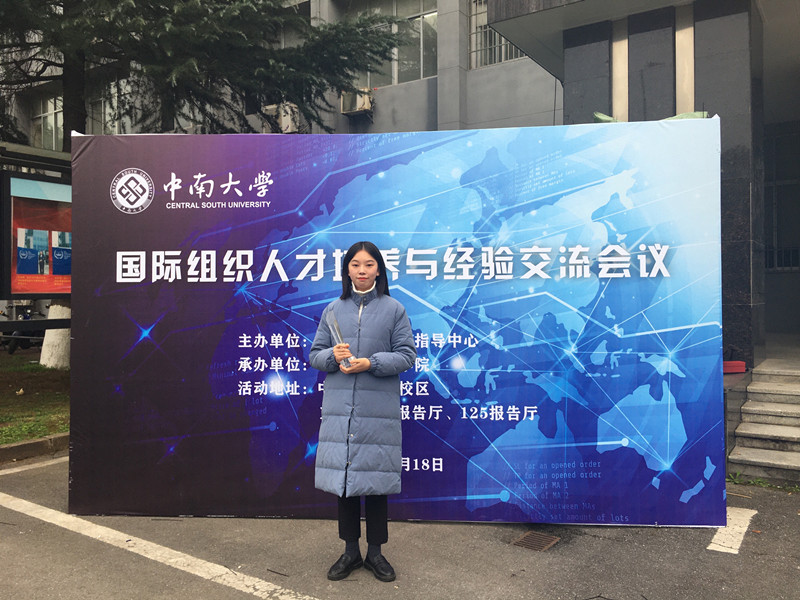 Under the background of the world undergoing great changes in the past century and the expectation of global governance for Chinese voice, the exchange meeting carried out in-depth discussions and exchanges on issues such as talent training and employment requirements of international organizations, aiming to promote education, strengthen the training of complex international professionals, actively expand channels, support CSU students to work as interns in international organizations, and train more high-quality talents with international vision and ability to deal with global affairs for international organizations.
International organizations are important platforms for formulating international rules, coordinating multilateral affairs and allocating international resources. They are also important fronts for global governance. International NGOs, as organizations involved in promoting global health, also play an important role in global health.
Based on her own experience, Tang Yao shared the reason for her internship in an international organization -- "to study for the rise of Chinese nursing, and to stand on the international stage to speak for Chinese nursing". Then, encouraged by her mentor, she went to the China office of Ask Health, a global think tank NGO, and described in detail the process of "Digital Health: Tackling COVID-19 Pandemic through Integration Digital Technology and Public Health : Linking Experiences in China to the World" written by Rockefeller Foundation, and elaborated on the thinking of career planning after NGO internship.
Xiangya Nursing School, Central South University, as a double first-class international school, will cultivate more nursing students with global vision and global pattern, offer suggestions for global health, and let more students go out, face the world and the future!